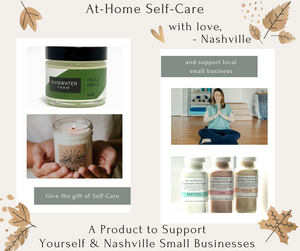 At-Home Self-Care with love, -Nashville
Sale price Price $40.00 Regular price
$5 flat-rate shipping 
&
FREE Local Pick in Franklin TN (Cool Springs)
It's been a very stressful time for so many.
Now more than ever, we need to be taking care of ourselves!
Enjoy an At-Home Mini-Spa & Self-Care Practice created with your mental, physical, and emotional health in mind by Kate. Let yourself relax and de-stress to recalibrate and come back to balance and peace.
(see below for a detailed description of the practice and what you'll need)
The products used in this gift are made by Nashville artisans. With your purchase, you are helping support local, small businesses! Learn more about who you are supporting:
Mindful Living with Kate (me) 
&
( please put the name of the style you want in the notes at check-out )
(you will receive a link and instructions to access the video with your relaxation kit)
COZY & CALM:
A full-size Leaves candle from Lightshine candles 
An Orange Oatmeal Foot Soak from Nashville Soap Company
A Heals Heels moisturizing foot cream from Rainwater Farms (2-ounce size)
Your guided at-home relaxation practice will start with a foot bath. You will need the following:
A small tub or bucket to fill up with water and put your feet in
A towel
Socks (optional)
A comfortable place to sit
As you soak your feet Kate will lead you through some gentle stretches to release tension from the neck and shoulders. 
The practice will continue with a guided foot massage to support tired, stressed, feet, and a gentle hip stretch to release low back tightness. 
Your session will close with deep breathing and a short guided relaxation meditation.
Please set aside 25 minutes for your Relaxation Practice and ENJOY!