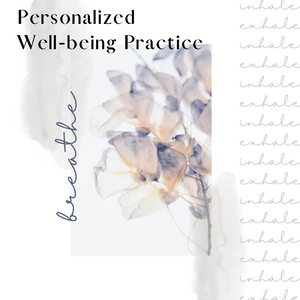 Personalized Well-being Practice
Sale price Price $100.00 Regular price
Give the gift of health and relaxation to yourself and/or someone you love.
Stress, tension, and pain wreak havoc on our minds and bodies and we must be proactive with our wellbeing. 
Your personalized well-being practice will start with a 30-minute online Yoga Therapy Consult with Kate. In this consult, you will discuss any issues in the body and mind, and from that Kate will create a practice that is just for you! 
After the session, Kate will take your feedback and create a video practice that is perfectly curated to address and support your needs and goals for your health and send it directly to your inbox. 
(please allow for 5-7 business days for the video to be created and delivered)
The practice can be a combination of yoga, yoga therapy, balancing body structure exercises, breathing practices, mindfulness, meditation, and/or guided relaxation. 
After your purchase, Kate will contact you directly to set up your appointment or to send you a gift certificate to give your friend/loved one. 
Please email Kate at mindfullivingwithkate@gmail.com with any questions