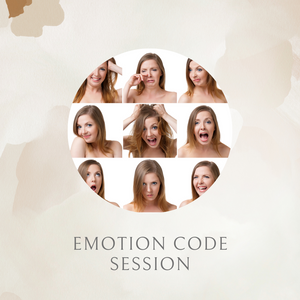 Emotion Code Sessions
Sale price Price $90.00 Regular price
Every emotional energy is significant in your life.  Each one has had an impact on you in some way or another.  Each comes from a specific time or event that was experienced either by you or someone else that you may have absorbed emotional energy from.  These energies affect us in a variety of ways and create challenges, problems, and pains of all sorts, both physical and emotional.
Releasing trapped emotions balances the body so it can regain its full healing capabilities.  Utilizing the Emotion Code, you may see physical and emotional issues disappear or become much less severe.
Please see the drop-down menu for options
Choose Between the Following Options:
Connected Session (45 minutes)
Connected Package (3 Sessions)

In-person Session (45 minutes)
In-person Package (3 sessions)
In the Connected Sessions, you have the option to record the session, or Kate will take notes during the session and email them to you afterward. In the In-person Session Kate can also take notes and email them to you afterward.