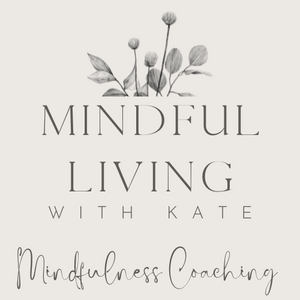 Mindfulness Coaching (3 Sessions)
Sale price Price $300.00 Regular price
A modern mindfulness teacher is a specially trained facilitator who holds space for presence, reflection and connection with self and others to occur. They do this with the purpose of teaching the skill of paying attention to present moment experiences without judgment of thoughts, feelings, or sensations. Mindfulness Coaching will allow you to learn about and experience these skills. Then you will be able to apply them and practice them with yourself and bring them into your everyday life.
Kate has been practicing and teaching mindfulness for over 10 years and has shared it's wisdom with individuals, groups, and companies through speaking, teaching, and through the ABCs of Happy Mindfulness Practice.  
Mindfulness Coaching is offered in a 3-Session package which includes:
1-hr session
2, 30-minute sessions
varied practices  
with Kate in-person or online through Zoom
The 1st session will be focused on your reason for seeking Mindfulness Coaching and coming up with a plan for you and your specific needs. You will do a mindfulness practice with Kate and then discuss your experience. From this experience and your previously discussed needs, Kate will give you practices to help you begin applying mindfulness in your life.
You'll then have your 1st 30-minute session 2 weeks out (roughly) to discuss what is coming up for you and how your practices are going. 
Your final 30-minute session can be used anywhere from 2-4 weeks out from your previous session. This will be a time to ask questions, to practice together with Kate, and to make sure you have plenty of tools and resources to continue on your Mindful Living journey.