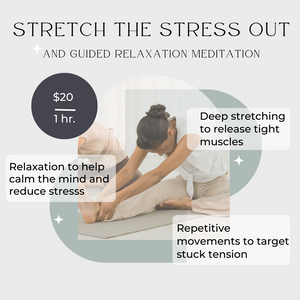 Stretch the Stress Out
Sale price Price $20.00 Regular price
Each Stress the Stretch Out Class will focus on stretching and gently moving the body to release tension and promote relaxation. 

All parts of the body will be focused on so you'll receive a full-body reset. 
This will be a beginner's friendly class and no previous 'yoga' experience is needed.  
 Props and Yoga Mats are available for use. You are also welcome to bring your own mat if you have one. 
The class will end with a 10-15 minute guided relaxation with aromatherapy to allow the body and mind to receive calm and peace. 
Class starts at 10 a.m. and will be 1 hr.